Som.uq.edu.au Review:
School of Medicine - Home
- Access information about the University of Queensland School of Medicine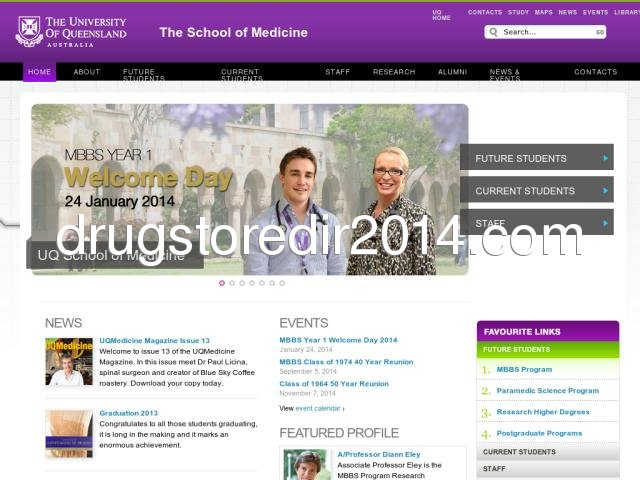 Country: Oceania, AU, Australia
Sody Clements - A lovely, relaxing read with quirky familiar characters.

The Mitford series of books are my new "must read" recommendations to my reading chums. "At Home..." introduced me to the wonderful characters and it was instant LOVE! I am now on the fourth of the series and can't wait for the next installment.The unobtrusive religious setting is a refreshing background for the stories. Without using torrid sex scenes, the love story unfolds in such a warm way. The moral of the story?-- that even lives that appear hum-drum, ordinary and boring are filled with excitement, surprise and love, if you look for it!
shakers - Samsung Galaxy Tab 10"

This is a great little device for everything. You can get e-mail, facebook, do your banking online, do researching, it has games and all sorts of aps. I bought 2, one 7" for my 13 y/o granddaughter and one 10" for myself. Needless to say I ended up giving the 10" to my oldest granddaughter and then I had none. They have so much fun with them. They send each other great pictures and skyp back and forth. It also has baby games on some aps. It's clear screen makes it so easy to read. It is a well made tablet that you will be able to handle quit easily. I just got my 10" yesterday and soon I will be enjoying it as I can take it in any room and learn more new things everything. I now have my own at a very affordable price. I bought mine refurbished and I saved about $50.00.
InNormal - Amazing --- This Really Works

I cannot say enough about this product. I have dealt with IBS for a number of years and no medication, diet change, etc. was bringing me any relief. I saw this years ago when it first came out & thought I'd give it a shot, little did I know it would make my life so much easier.

You have to give this product time to work---at least 2 months. I have recommended this to a number of people who said 'I tried this for a month but didn't really see a difference so I stopped'---don't stop! Give this at least two months and you will see a difference. I have had a couple of occassions in the past few years where I've run out and gone a day or two without a pill and only then am I reminded of how awful things were before & how much I don't want to go back. If you suffer from IBS, please try this.
MMAfan - BEST CD EVER

(...)

(now onto the album)
I gotta say, this is one of the best albums I have heard in my life. Pink Floyd has moved from a band I didn't know to one of my top 5 favorite groups just from listening to this album. I have viewed the movie right after I listened to this and the album makes much more sense from watching that. I recommend picking that up right with this. What I love about this album is that every song is linked kind of like combined into one big song that go's on for 80 minutes. And if they can make a great movie with all The Wall songs on it and have so much success with the movie it has to be great, right. I usually like cd's with awesome guitar solos and drum solos and all that but this one had hardly any and I think I enjoyed it even more without solos. The vocals are the main thing that brings the 26 songs together.

Roger Waters is great singing and really can show us what he's feeling in each song. The vocals are sad, depressing, sometimes funny, and also interesting. How are they interesting. Because I have never heard what I did on this cd. It's so well put together. The lyrics actually make up a plot and that made the cd great. David Gilmour actually does have some guitar solos but not as many as in the other cd's. The best song he is featured on with guitar solo is "Comfortably Numb" which is one of my favorite Pink Floyd songs. I found the drumming to be great in this cd. It was deep, and I really loved it in "Hey You".

SONG RATINGS:
DISC 1
1. In the Flesh?-(3:19)-10/10
2. The Thin Ice-(2:29)-10/10
3. Another Brick in the Wall Pt.1-(3:09)-10/10
4. The Happiest Days of Our Lives-(1:51)-10/10
5. Another Brick in the Wall Pt.2-(3:59)-10/10
6. Mother-(5:36)-10/10
7. Goodbye Blue Sky-(2:48)-10/10
8. Empty Spaces-(2:08)-10/10
9. Young Lust-(3:30)-10/10
10. One of My Turns-(3:37)-10/10
11. Don't Leave Me Now-(4:17)-10/10
12. Another Brick in the Wall Pt.3-(1:14)-10/10
13. Goodbye Cruel World-(1:17)-10/10
DISC 2
1. Hey You-(4:42)-10/10
2. Is There Anybody Out There?-(2:40)-10/10
3. Nobody Home-(3:24)-10/10
4. Vera-(1:33)-10/10
5. Bring the Boys Back Home-(1:27)-10/10
6. Comfortably Numb-(6:24)-10/10
7. The Show Must Go On-(1:35)-10/10
8. In the Flesh-(4:17)-10/10
9. Run like Hell-(4:24)-10/10
10. Waiting for the Worms-(3:58)-10/10
11. Stop-(:30)-10/10
12. The Trial-(5:20)-10/10
13. Outside the Wall-(1:44)-10/10

ALL 10/10 FOR THIS CD. The best cd I listened to.. A must for any rock fan.
M Appelt - Another Winner

Amazing! Brilliant! Another Winner! Tessa Afshar paints another wonderful story woven in Biblical history. Harvest of Rubies brings the Persian world of Artaxerxes to life and casts you in the middle of a love story entangled with misunderstanding, man's inhumanities to man and much more. She takes you on a journey you won't forget. A must read! And, if you missed Pearl in the Sand, it is another gem from cover to cover.

Mark Sylvester