Buyprotonix40mgquickshipping.soup.io Review:
Buy Protonix Low Price
- No Prescription. Where To Buy Protonix Bali.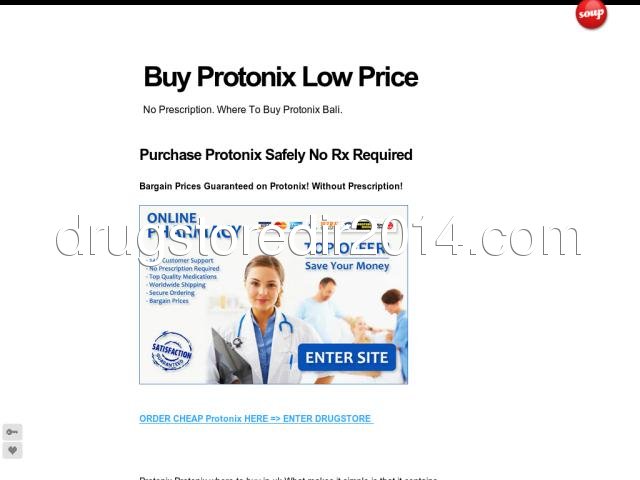 Country: Europe, AT, Austria
Treads76 - Bose Sound BarThis sound system is fantastic! It is exactly what I expected and what anyone familiar with Bose electronics has come to expect from the brand. Its simple, takes up very little space, and fits right under my 46" led tv like it belongs there. Yet the sound surpasses that of larger systems that require a separate subwoofer.
This system not only provides high quality sound for movies and sporting events but also balances out quiet dialogue with louder things like special effects, music, action, or advertisements so I'm not constantly turning the volume up and down. I am very very pleased all around with the Bose Solo sound system.
J. Greenhill - Wondering about this and the Tokina 11-16? Let me help.At this point you're probably thinking I love photography, but am I ready to spend ~$800 on a wide angle lens? That's a tough question! Maybe I can help you out with your decision. As a rule of thumb, I always recommend investing in good glass. Bodies are always changing- better sensors, ISO performance and increased functionality. Lenses, on the other hand, are more constant. They are arguably the most important factor with regards to hardware.

Cliffnotes: There are two main reasons I prefer the canon 10-22 over the Tokina 11-16.

1. More reach. I find the 10-22 is more versatile with the effective focal range of 16-35mm on a full frame body. The Tokina shoots more like a prime. It's effective focal range is 17.6mm - 25.6mm. This gives me more flexibility.

2. Creativity: At 10mm on the canon I can get a good bit of distortion. This makes for really fun shooting! I haven't found this to be the case on the 11mm end of the Tokina.

Backstory: I first bought the 10-22 used in 2007. I had read great reviews about it, and loved the images I saw taken with it. I didn't know if I really loved shooting wide angle shots, but I was determined to make that leap. I remember thinking this lens costs as much as my xti body did, and that was a pretty big pill to swallow at that time. To make a long story short, I ended up loving the lens. It really opened up my mind to creative shooting. Prior to buying it, I only had a 50mm 1.8 which was the equivalent of shooting 85mm consistently on a crop body. I feel that it's important to start off with a prime as it makes you understand composition. The 10-22 was my natural progression to a different focal range.

Sadly, I ended up selling the 10-22 when I decided to upgrade to the 5d2, as ef-s lenses don't work with full frame bodies. I was in a rush at the time and ended up losing a little when selling the 10-22, maybe $75 dollars. This doesn't usually happen, but I was in a crunch. I replaced the 10-22 with the 17-40L, my wide angle choice. Fast forward to today, I've owned the Tokina 11-16 f/2.8 for almost a year, using it on a 7d. I just haven't loved it. Sure, optically it's probably as good if not slightly ahead of the 10-22 from what I remember (it's been 3 years ). It has more glass, ~14oz (Canon) vs. ~20oz (Tokina) and also has a slightly better build quality. It's faster at F/2.8 vs. F/3.5-4.5 and has a consistent aperture which I do love. I haven't noticed a much difference with CA or Vignetting, neither seem to suffer much there or anywhere optically in my opinion.

Verdict: Recently I was remembering how much I loved the lens. I even contacted the person I sold my copy to. I found someone to trade locally- their 10-22 for my 11-16. I just don't use or love the Tokina enough to keep it around, and that's just my preference. I'm hoping by moving back to the lens I love, that I will be stimulated again. Based on my rough calculations, I'm spending about $200 on top of what I paid for the Tokina and selling the 10-22 years back at a slight loss. I miss it that much!

Hopefully this helps with your decision making and I can save you some time upfront.
N. E. Haymon - EXCELLENT CONTEMPORARY GOSPEL SELECTIONS!The producers at Verity did an excellent job this time around with the selections. If it were up to me I would have chosen Kirk Franklin's 'I Smile" and Forever Jones' 'He Wants It All'. I am still very pleased with the songs that are on these two cds!

You'll have a very good time praising God with these songs! It's a nice cd to have if you want a good mix of what was TRULY popular in 2011.

ENJOY!!
Lawrence Mittica - Simply the best, better than all the rest!I reached a low point in life. I thought I was the only one who felt the way I did. I couldn't sleep. I couldn't eat. I didn't want to live. My life had no meaning until I found the 571B Banana Slicer. Now I can't wait to wake up in the morning and start slicing bananas! I finally feel as though I serve a purpose in this world. I am finally living life to the fullest. I am making the world a better place one banana at a time thanks to the 571B Banana Slicer!
JesusSaves - Fantastic!Tessa Afshar is my new favorite author! Her way of keeping a story interesting from paragraph to paragraph is a talent that has become lost. Her stories are woven with wonderful mystery and laughter- plus life lessons that make you think. She has done her homework on the time in which she is writing about. She has the weather, clothing, architecture all in wonderful detail. Thank-you for writing such thought provoking novels with such wonderful story lines!